Click Here For Full Inventory of Hydraulic Crane Rental Fleet
Your Guide to Hydraulic Crane Rental
Do you have an upcoming project that requires some heavy lifting?
Cranes add value to your job by lifting heavy objects safely and efficiently. However, because of what they do and the inherent risk of lifting heavy objects way into the air, cranes are unique. Crane equipment comes with its own set of terminology. You need to understand how a crane works to know which one will best do the job at hand.
You also need to understand with some specifics about your job site needs, since that can really change what type of crane you might use.
Expect to need a hydraulic crane on your job site and want to understand as much as possible about different cranes and their uses?  Read on to learn all there is to know about the different types of hydraulic cranes and how they can work for you.
Crane Terminology
The general purpose of a crane is to do the heavy lifting on a job site. Its role is to lift materials and place them where they are needed. Like any kind of equipment, there is some crane terminology to understand associated with its use.
Let's take a look at the vocabulary connected to cranes and their use.
FAQ for Crane Needs
You know you need a crane but figuring out which crane you need requires some additional knowledge. When you talk to a crane specialist, they are likely to ask you a series of questions about your job site to help them zero in on the best crane to do the job.
Here are some of the questions you should be prepared to answer about your job site.
How much weight do you need to lift?
How high do you need to lift the materials?
How far do you need to reach with a boom?
What is the duration of the job?
How close can you get the crane to the location you plan to offload the materials?
What are the conditions at the job site?
Is it a rough construction site, paved, smooth surface?
How much time will you have to set the crane up?
Will the crane be able to do everything you need to do from one location?
The more details you can provide to your crane specialist, the better. All this will help your crane specialist determine the best crane for your job.
Transport, Set-Up and Service
Transport, set-up, and service are three factors to consider in getting a crane to your job site. Because of the sheer size of many cranes, no matter the type, transporting them is specialized. Some cranes will need to be transported in parts and assembled on the job site.
A large crane needing significant counterweight, for example, might come with boom parts on one truck, counterweights on another. Then the assist crane will come separately too. Be prepared to also need specialized set-up. The crane company might deliver the equipment and with it will come a crane company employee who specializes in getting the crane set up for use. Crofton Crane Rental & Rigging provides the skilled personnel and equipment for transport and setup of the crane at your job site.
One service you will want to discuss with the crane company is the riggers. Will they do the rigging for you? Will they require you to get a rigging service or perhaps allow you to rig it yourself?
Rigging a crane is highly specialized because of the associated risk. You want to be certain to have your crane rigging done by an expert to avoid accidents or injury on the worksite. Crofton Crane Rental & Rigging can supply certified riggers for every lift. Crofton's riggers are trained through Rigger 1 & Rigger 2 training which covers proper inspection and use of various types of slings, verifying load weight, sling length, safety practices, and more.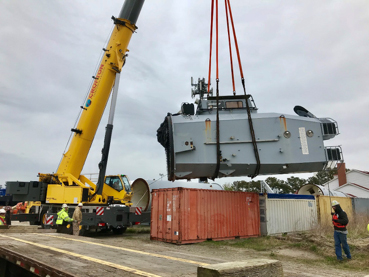 Types of Hydraulic Cranes
There are a variety of different hydraulic cranes, each with unique features. The more details you can provide about your job, the easier it will be for your crane specialist to identify which crane is right for you. Let's take a closer look at the different types of hydraulic cranes, their unique features, and how they can add value to your job site.
Find the Right Hydraulic Crane for Your Job
A hydraulic crane can be quite the workhorse on the job or construction site. They are unique machines that require specialized knowledge and experience. If you need help with the heavy lifting on your job site but aren't sure which crane will work best for you, we can help. Contact us today to request a quote and get more information. We are available 24/7 at 757-397-1131.
Crofton Crane Rental & Rigging maintains a premium hydraulic crane rental fleet ranging from carry decks and boom trucks to hydraulic truck, rough terrain, and all terrain cranes. Our diverse fleet services all areas of Hampton Roads (Portsmouth, Norfolk, Chesapeake, Suffolk, Virginia Beach, Hampton, and Newport News) and extends up to Williamsburg and Petersburg, westward into Emporia, and all the way down to north east North Carolina.
Request Quote
Our hydraulic crane rental services offer fully operated and maintained or bare rental, long-term or day rental, rigging services, permitting, crane plans, and/or load tests. We can also provide spreader bars and crane mats. Whether it's an HVAC unit or non-containerized cargo, residential construction or structural demolition, steel erection or vessel decommissioning–we've got the equipment and the experience for the job.
We know that emergencies can't wait until the next business day. That's why we've been responding 24/7, since 1949. Our cranes are third party inspected and regularly serviced and maintained–ready for anything at any time. All operators are CDL licensed, VDOT medically certified, NCCCO certified and maintain DBID, TWIC cards, and other various access credentials that provide clearance to all local government installations and privately owned highly sensitive facilities. Crofton also provides in house OSHA training, Rigger 1 & 2 training, and Signal Person training.
Want to see more? View our entire fleet of rental equipment here.