Sunday, February 11th 2018, was a "red letter day" for the heavy lift team at Crofton, who had the chance to provide services to CMA CGM's Theodore Roosevelt–the largest container ship to ever call on the East Coast.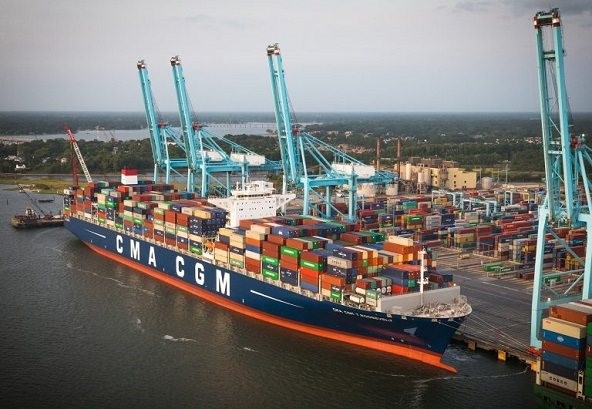 The day started with the lift of a 350-ton transformer off the container ship Maersk Idaho. The Samson loaded the transformer to a barge waiting to take it to a new construction power plant on the Susquehanna River. Immediately following the transformer lift, the Samson lifted a 110-ton export generator to the Theodore Roosevelt, which was moored in Virginia International Gateway (VIG) adjacent to Maersk Idaho. This lift was across the Roosevelt rail at 67.6 feet of freeboard, a remarkable achievement for the Samson and the heavy lift team. 
Mark Herman, John Strickland (Samson Operator), Captain Mike Mahlmann, and the rest of the Samson and Pinners Point crews enjoyed participating in such a busy day–especially given the significance of the Theodore Roosevelt. Not to mention, both lifts were completed by 1:00 PM! 
Whether it's lifting an HVAC unit or non-containerized cargo, a construction project or salvage operation—we have the crane for the job. Our operators are badged for entry to all major government installations and are certified by the NCCCO. We also know that critical operations don't always take place within "business hours".  And sometimes, it's an emergency. That's why we've been responding 24 hours a day, 7 days a week, since 1949. For more information about our crane rental & rigging services, CLICK HERE.
Learn more about the Theodore Roosevelt's first visit to the Port of Virginia HERE. 
Crofton Industries: Solutions Above & Below the Waterline, Since 1949. 
Commercial Diving  |  Marine Construction  |  Crane Rental & Rigging
Maritime | Energy | Construction | Ship Repair | Utility | Engineering | Municipalities | Military