As we approach our 70th anniversary, we would like to share our story with you. We'll start at the very beginning.
In 1937, Juan Crofton left Washington DC and moved to Williamston, NC to live with his grandparents at 15 years old. He graduated high school in 1940 and with the help of his football coach, obtained a partial scholarship to play for Duke University. In his second year, on December 8th, 1941, the United States declared war. In order to remain on the football team, the players needed to enroll in the National Reserves Officers Training Corps (NROTC). Juan didn't pass the medical exam due to poor eyesight, so he wasn't able to rmain on the football team and thus, his scholarship was withdrawn. His coach gave him an application for employment to Newport News Shipyard & Dry Dock Company (NNS&DDCo) in Newport News, VA. Shortly after, Juan left Durham, NC on a Greyhound bus to Newport News. He later noted in a journal entry, "I forget my financial situation at this time, but it wasn't too good. In fact , I think in consisted of pocket change after the bus fare." By February 1942, Juan was working in the Rigging Department of NNS&DDCo and that June, he made his first dive on the No. 6 shipway.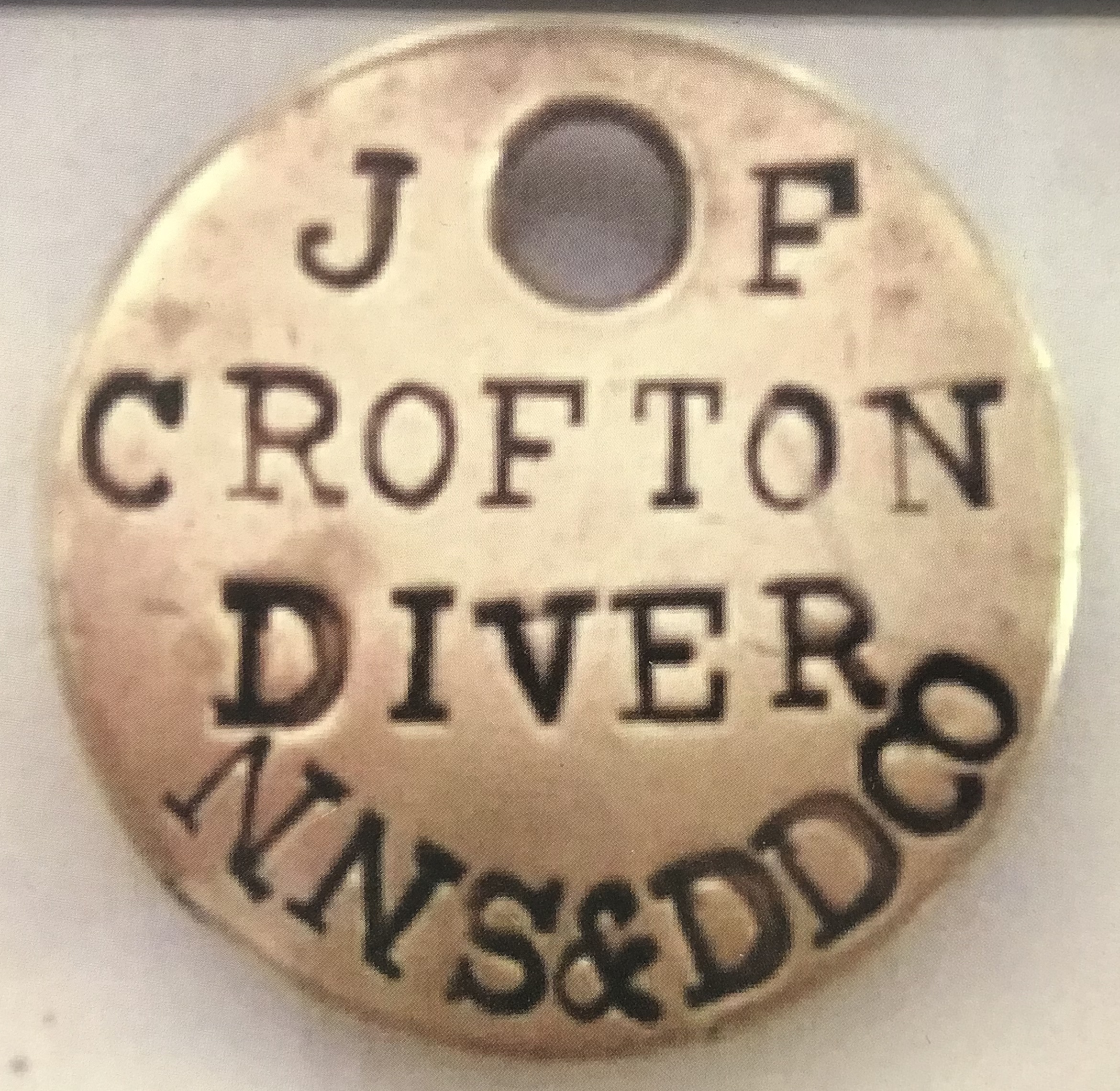 Juan Crofton's diver tag from employment at Newport News Shipyard & Dry Dock Co.
Juan eventually served in the Navy and spent time in Williamsburg, VA, Gulfport, Mississippi, and Seattle, Washington. After discharging, he returned to Norfolk, and worked for NNS&DDCo again, before applying for a small diving company called Submarine Engineering Co. It was during his employment with SECo that he would meet his friend and future business partner, Ernest "Duke" Morris. After working together on a few projects, the two friends decided to venture out on their own. Between the two of them, they took out a loan for $800 and acquired a boat by donation from their former colleague, Captain Till Conklin. Captain Conklin wanted to help but couldn't provide financing, so a boat was the next best thing. Juan and Duke would eventually pay Captain Conklin for the boat after about 5 years in business.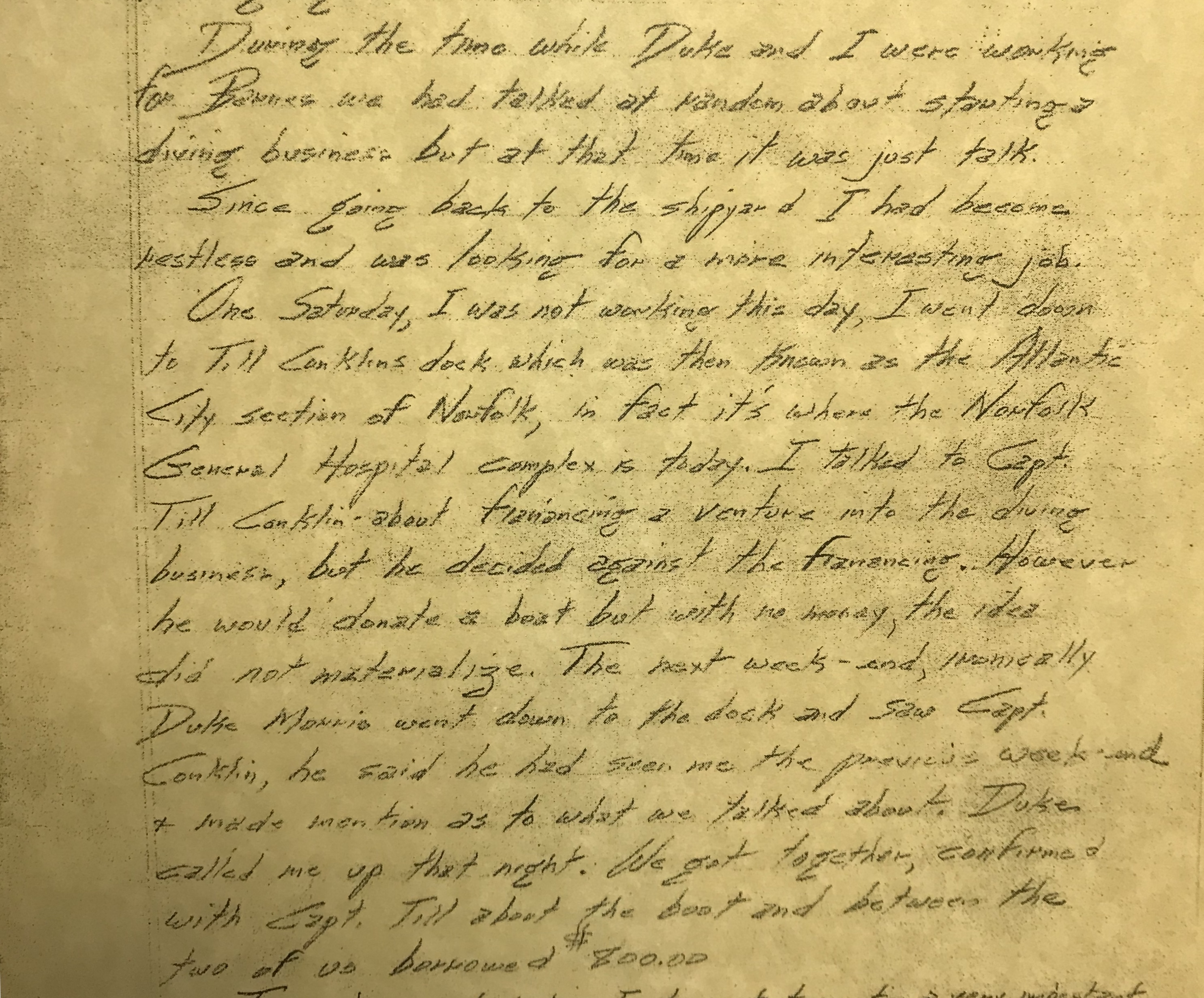 Journal entries from Juan Crofton on the early days of Crofton & Morris Divers.
At the time, Juan had gone back to work for NNS&DDCo and Duke was working as a Night Engineer on ships that were in the harbor. Due to the wars end, there was a surplus of machinery and equipment including diving gear. During the day, Duke would visit the surplus yards to see what equipment was available at night, Juan would work on the boat. On Friday, June 24th, 1949, Juan and Duke received a call from Captain Conklin that Virginia Electric had lost one of their 33,000-volt submarine cables going across the channel at the Campostella Bridge. The job was of an urgent nature because the Ford Plant lost service and the cable was at fault. Of course, Juan and Duke responded eagerly , and this was the first job for Crofton & Morris Divers.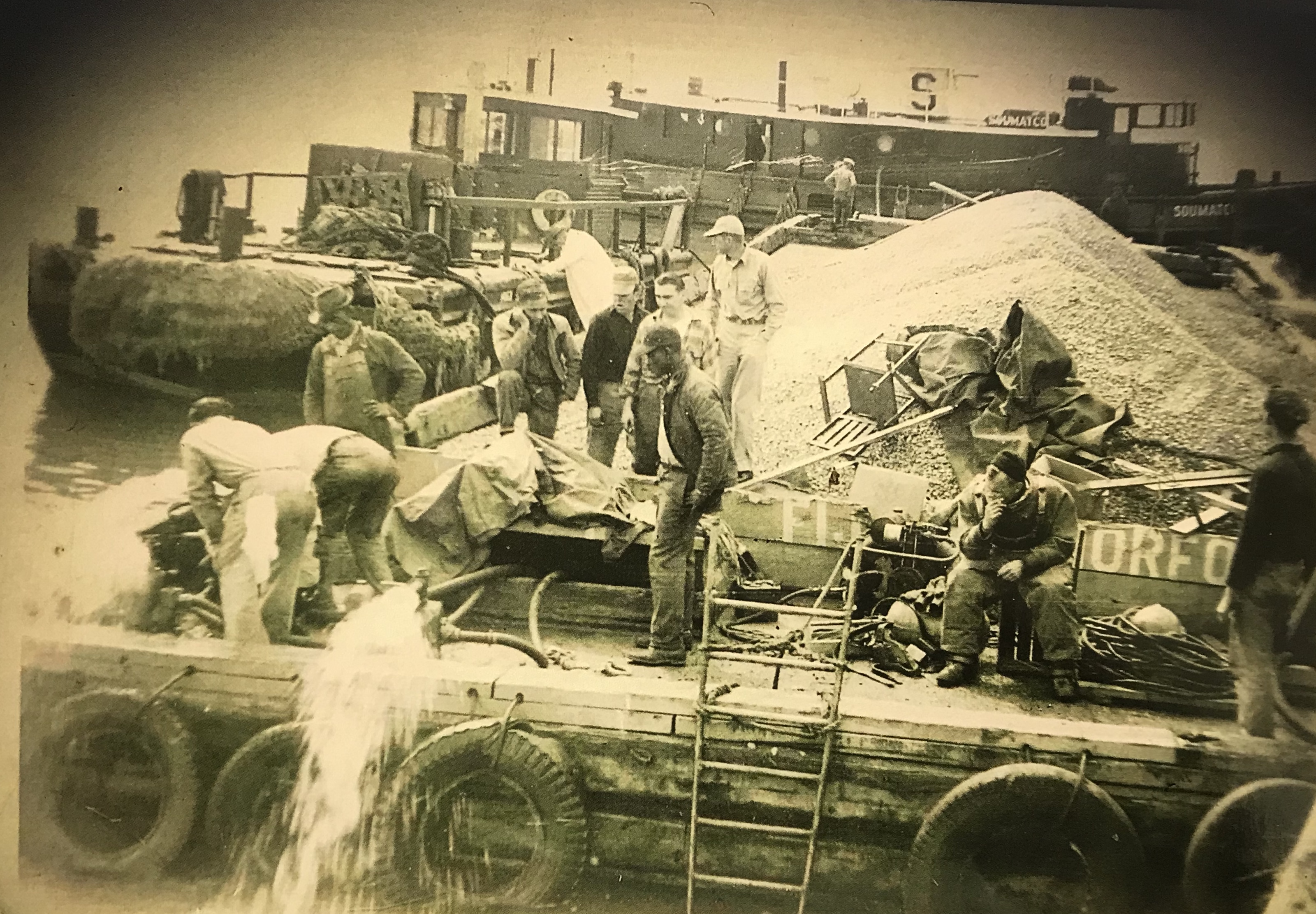 Salvaging a sunken gravel barge for Southern Material Company on the upper James River, 1949. 
In 1951, they purchased the Cromo, so named because Juan won the coin toss. It had previously served as a training vessel for midshipmen at the Naval Academy in Annapolis, MD. Juan designed the conversion to a commercial diving vessel, taking inspiration from Norshipco Tug for the Cromo's wheelhouse construction. Read more about the Cromo's history here!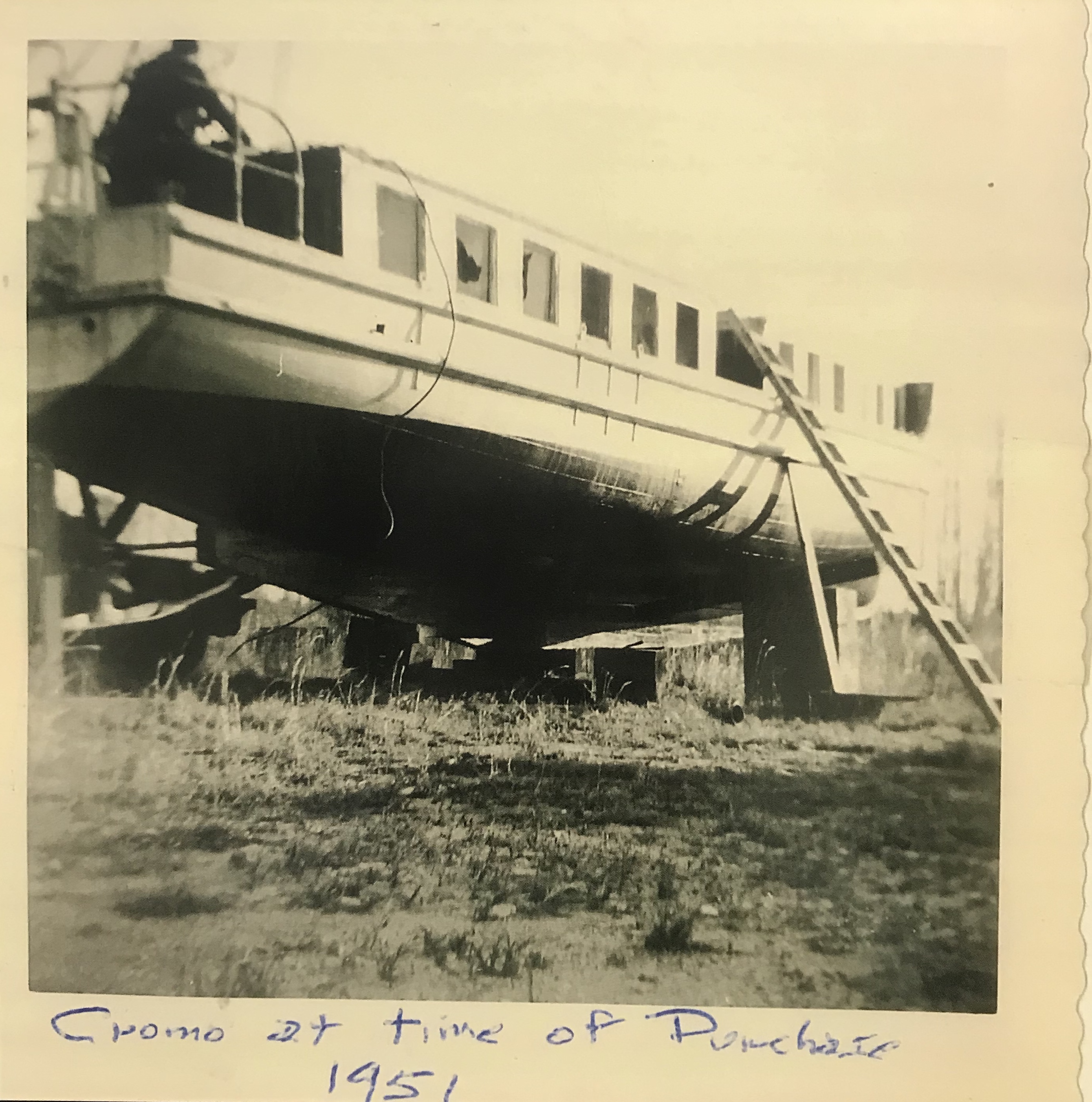 Crofton & Morris Divers continued to service the Hampton Roads harbor, experienced in "marine construction and repairs, sub-aqueous pipe lines, submarine cables, underwater burning (both electric and gas), underwater welding, salvage, inspections, and general underwater operations." In 1968, Duke decided to leave the diving business and Crofton Diving Corporation was born. Juan later noted, "During those early years, the help we got from different companies on the waterfront was a God send. Without the assistance of the many businesses and individuals that helped us along the way, I doubt that Crofton Diving would be as far as it is today."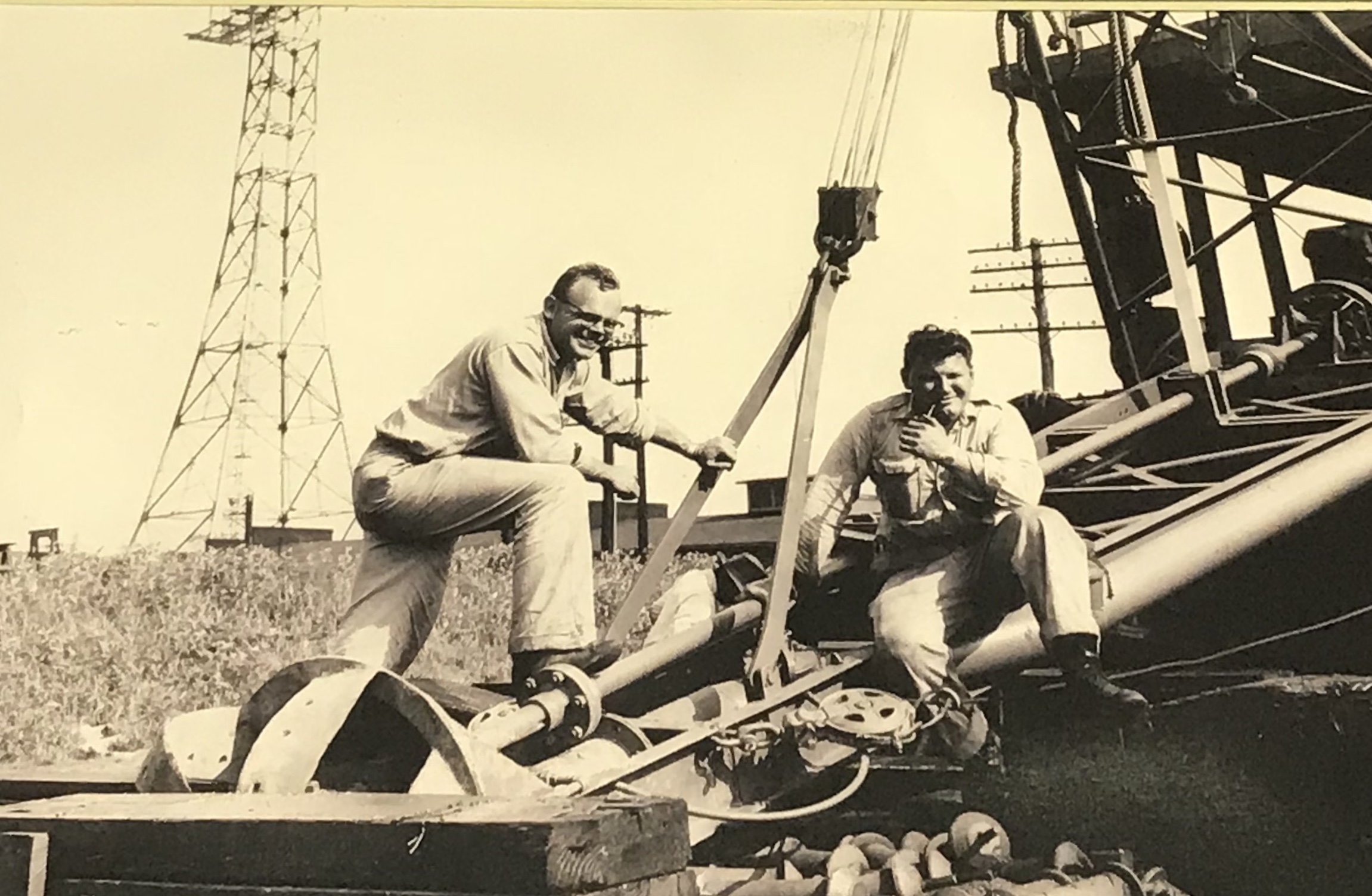 Juan Crofton (left) and partner, Duke Morris at a shipyard in Norfolk, VA.